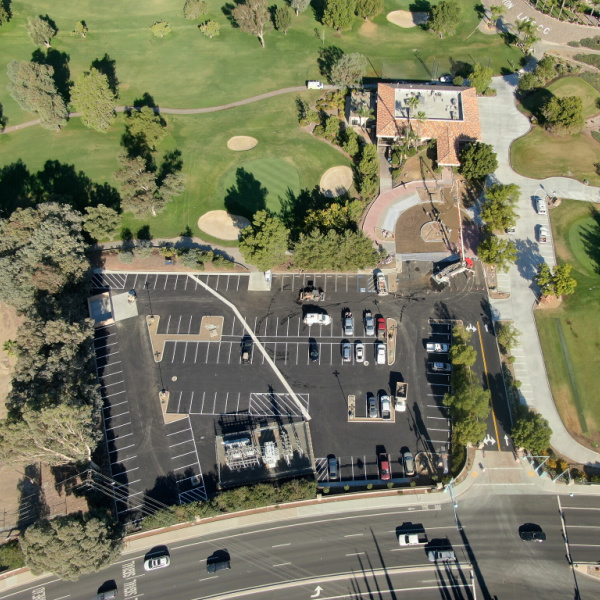 In 2012-2013, the Canyon Lake POA entered into a $7.8 million dollar paving project which involved the majority of the roads within the community. However, that project did not include resurfacing of the 15 parking lots within the community.
In 2016, Willdan Engineering was contracted to create a set of bid documents for these remaining parking lot areas. Due to lack of funding, it wasn't until 2019 when the request for proposal was published.  It was an expedited process from there, with the bids reviewed in July 2019 and the Board approving funding and vendor selection of Asphalt, Fabric & Engineering Inc. as their general contractor for this project in August 2019.
There are a total of 15 parking lot locations to be resurfaced and made ADA compliant, which include: Blue Bird Hall, Canyon Lake Drive North (from Vacation Drive to Goetz Road, Canyon Lake Golf & Country Club, Diamond Point Park, Eastport Park, Equestrian Center Driveway Entrance, Gault Field, Holiday Harbor Park, Indian Beach, Lodge/Tennis/Sunset Beach, Moonstone Beach, North Ski East & West, Operations Yard, Senior Center, and Sierra Park. Notably, the Lodge project will feature a new concrete ADA ramp and staircase down to the rental docks along with a new walking pathway, new retaining walls, planters, and additional parking spaces.
The project was underway beginning September 2019, with construction equipment setting up at East Port Park (which will be staging area for equipment) and work beginning in small portions of East Port and Holiday Harbor Park parking lots. The project duration is to last no longer than 12 months.
About Asphalt, Fabric & Engineering Inc.
Asphalt, Fabric, & Engineering Inc. is a licensed general contractor and has highly experienced operators using the most advanced equipment and technology available. Asphalt, Fabric & Engineering Inc. services the entire Southern California region, working closely with general contractors, construction managers, building owners, commercial property managers and municipalities. We are experienced in asphalt, concrete and blacktop paving projects of all scope size, ranging from patching, milling, and overlay or resurfacing parking lots to complete asphalt pavement replacement and/or reconstruction to major roadway paving. We are dedicated to performing our work in a safe and effective manner, while providing our customers with only the highest quality of goods and services.