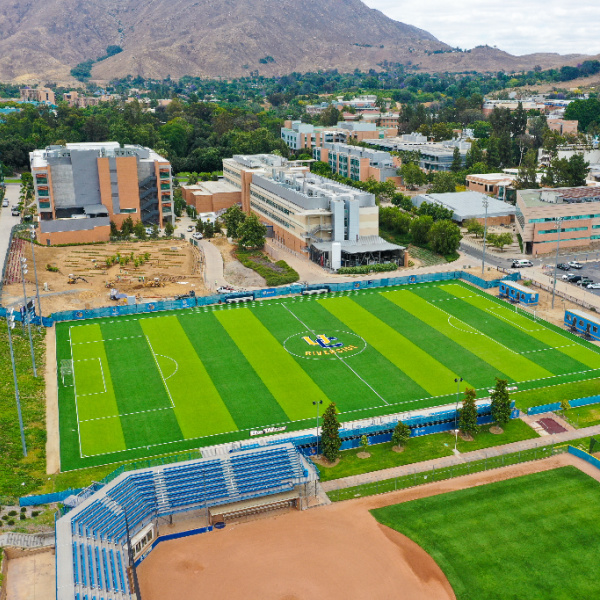 University of California Riverside's soccer field was the very first NCAA Division 1 installation that AFE Sports did back in 2007. 12 years later, they have entrusted AFE Sports once again as their preferred turf installer for the Highlander's soccer field. In April 2019, AFE Sports completed the replacement of the existing turf field.
University of California Riverside is the only school within the Big West Conference that boasts a synthetic turf field.The entire design of the field was well-thought out and there was great attention to detail in planning for the purpose and performance of the surface. The 88,000 square foot soccer field features AstroTurf's premier soccer specific turf system, over a shock pad. This system allows for ball-to-surface playability, while balancing the need for high durability and joint fatigue reduction. It replicates natural grass by minimizing the splash of infill that sprays when players tackle, strike a ball or change direction and ensures optimal cleat release.
University of California, Riverside is part of the highly competitive Big West Conference, which includes UC Irvine, Cal State Fullerton, Cal State Long Beach, and UC Santa Barbara. The Highlanders 2019 soccer season is well underway and there are high hopes for another successful season for both the Men's and Women's teams. In 2018, the Men's team clutched their first Big West Conference championship in the school's history, while the Women's team held a strong 2-4-2 conference record.
About AFE Sports
AFE Sports is the leader in providing value-added, turn key construction services to our customers by creating a successful partnership with them throughout the construction process. Serving southern California for 20 years, AFE Sports is a self-performing design/build firm specializing in sports park construction, with our Class "A" and D-12 Licenses. Our pledge is to establish lasting relationships with our customers by gaining trust through exceptional performance by every member of the construction team and exceeding our client's construction expectations. AFE Sports is one of the very few general construction companies in Southern California with the background and experience to execute correctly building high-performance synthetic turf athletic fields and paving for synthetic running tracks. From start to finish, top to bottom, we design, build, install, and deliver the finest synthetic turf fields in the region utilizing only the best quality materials and construction methods.